If you are a customer who lives outside of Japan, please purchase our selling merchandises through "Worldshopping" which offers safe and reliable forwarding service, from Japan to the world.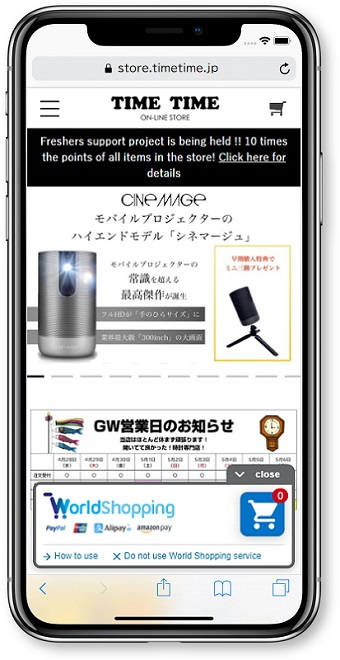 To use this service, please click "Worldshopping" banner in the bottom of item page.
They provide great forward shopping services as follows;
・Delivering your purchased items to 125 different countries.
・Packing your purchased fragile items in the most suitable way for secure delivery.
・Acceptance of various payment methods; Paypal, Alipay, Credit cards, Debit cards(Depending on your country, available cards will be different. )

Please note that besides merchandise price total, it will cost commission fee for "Worldshopping" service which is 10% of merchandise price total, Japan domestic shipping charge, overseas shipping charge, handling charge.

To see more details about "Worldshopping" service, please check their website;
www.worldshopping.global/en/help
Further inquiry on shopping or shipping, please contact
www.worldshopping.global/en/help/contactus